Why Choose Benjamin Moore Paints?
Whether you are re-imagining an interior space or painting the whole exterior of a home or property, there is always a Benjamin Moore paint that perfectly fits your project. According to Warren Buffett, who purchased Benjamin Moore in 2000, the company's prime objective is first-class paint at all times. This "better tomorrow than yesterday" mission can be seen in every Benjamin Moore product. Their world-class chemists and chemical engineers work tirelessly to ensure that Benjamin Moore formulations are always best-in-class. Benjamin Moore produces the highest-quality paints and finishes in the industry and delivers them directly to customers through a nationwide network of knowledgeable, independent, and customer-friendly retail store operators, including your local Roosters ACE Hardware & Paint!
The adage that not all paint is alike is certainly true with Benjamin Moore. Each of their products  is carefully crafted to serve a specific role and deliver specific benefits. In addition, Benjamin Moore is committed to developing products that minimize their impact on the environment. Their Natura® line has zero emissions and no harsh fumes, garnering multiple awards for being "green" while also receiving top marks for customer satisfaction.
Featured interior paint products include the Aura® Waterborne Interior Paint with Color Lock®, Regal® Select Premium Interior Paint, ben® Interior Paint, Natura® Interior Paint, and Waterborne Ceiling Paint.
Exterior paint products include Aura® Waterborne Exterior Paint with Color Lock®, Regal® Select High Build Exterior Paint, and ben® 100% Acrylic Exterior Paint. We also carry REVIVE®, a premium paint specially formulated for optimal performance on vinyl siding and trim and available in hundreds of colors.
These paints are easy to apply, but tough once dry – durable, washable, and scrubbable. With Benjamin Moore, you'll enjoy quality coverage with colors that pop!
Paint Color and Stain Color
Not only have color and color combinations have been scientifically proven to influence mood, they also say something about the people who choose them. When it comes to picking colors, trust your instincts. Your sense of color confidence comes from taking a close look at what colors you already gravitate towards – and love being surrounded by – then embracing
the design possibilities
they present. Roosters ACE Hardware & Paint experts can help guide you as you explore paint colors and stain combinations to select the perfect palette for your home. Benjamin Moore offers the tools you'll need to understand the fundamentals of color, giving you the confidence to make great color choices. From our designers' favorite paint colors to the latest trends and styles, with your locally owned Roosters ACE Hardware & Paint and Benjamin Moore, you can create a unique color scheme for your home and
design a space you'll love.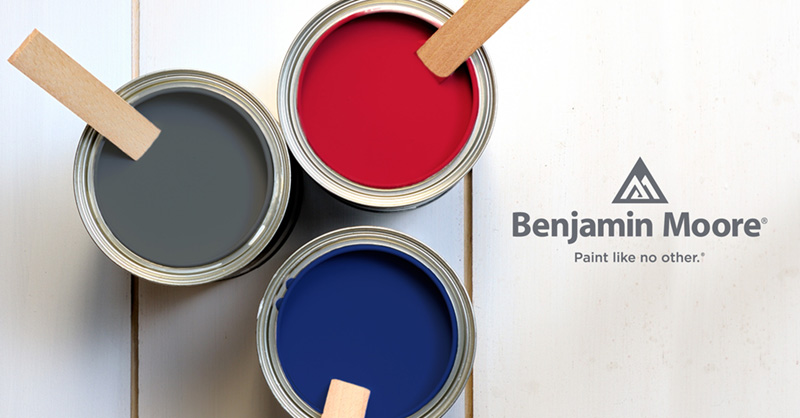 Custom Color Matching
There are many ways to choose the perfect paint color. Inspiration is all around you every day, and we have the tools to help you translate that inspiration into your paint color. Use the Personal Color Viewer® on the Benjamin Moore website to upload a photo and explore colors online. In addition, Benjamin Moore's Color Capture® – a free app for iPhones and Androids – allows us to match any color you bring to our store. It captures colors simply by taking a picture with your smartphone. Any color on anything works – fabric, a car color, the blue of a piece of pottery, etc. Just take a picture of a color you love and we can instantly match it to one of our 3,500 paint colors. You can even save your favorites for color coordination and comparison. Think of it like "couture" color, without the $1000 price tag.
Color Trends / Colors of The Year
Benjamin Moore color experts, with years of experience in color theory, bring colors together to form collections in masterful ways. Choices range from classics, historical colors, and designer combinations, to various color groups. Start from there or let Roosters ACE Hardware & Paint experts help you navigate color families and themes to find the right colors for your home.
A vivacious shade of coral tinged with pink, Raspberry Blush is Benjamin Moore's Color of the Year 2023. Raspberry Blush enlivens the senses with an electric optimism. Bring a blushed update to the deep red dining room with Raspberry Blush walls and Onyx furnishings, create a lively living room with walls and wainscoting, or add a pop of color to your home with a powder room or en suite painted in this rich coral. Envelop yourself with this tart hue and use on walls, ceiling, and trim to create an impactful color statement.
Whether you want bold or mellow, strong or subdued, Roosters ACE Hardware & Paint can point you to the right paints and colors to make your environment match you and your needs.